The Lost Ways Book Review
The Lost Ways Book Review

The Lost Ways books touts itself as a survival book, teaching you how to live like a pioneer or Native American. The book reads more as a compilation of blog entries with modern technology sprinkled in.
It is not complete, inconsistant, or off the grid. Immersion blenders are not appropriate for a book that claims to teach "old ways". The Lost Ways Book is not as good as Carla Emery's The Encyclopedia of Country Living. It's also more expensive.
Find out what we think about The Encyclopedia of Country Living.
Although we liked Carla's information on the root cellar charts, sheriffs and smokehouses, it required 40 additional items to be competitive.
The Lost Ways is about twice the price of the Encyclopedia of Country Living, with less than half as many pages. The Encyclopedia of Country living is also a very dense book in comparison. You will find more information each page. Emery's books are about the exact same cost as another book, and you get much more value. You can find more of our favorite homesteading books on The Best Homesteading Books. While the Lost Ways is a decent book, it isn't on our Recommended List. It needs more information on construction/building, skinning, and other traditional skills.
Be careful when you checkout for the Lost Ways book. It is easy to accidentally order more than one copy or order bundles, or order the electronic version and not get the paper printed copy.
Since we originally published the review, many readers left comments suggesting that they had paid for the book but not received it. Purchase at your own risk.
Who is Claude Davis?

We took a close look at "Claude Davis", the author of this book review, and the Lost Ways team. It seems that Claude is not actually a trademark. "The mark shows Claudiu Giurgi's signature, name(s), portrait(s), or signature(s)." Although the page describes Mr. Davis's supposed history, there is no other place to locate him on the Internet. This page describes a mindset and not an individual targeted at their customer. It doesn't include details such as education and places of work. He doesn't present or teach; he seems only to sell books, prepper content and books.
The privacy page at Askaprepper dot com reveals that Global Brother SRL owns the website. Further investigation revealed that Global Brother SRL has a Romanian registration. We don't disagree with international business but it is not appropriate to claim that you are American while actually working from Europe.
Some Notes On Recent Lost Ways Advertisements

The "over-the-top ads" that Lost Ways' book team has been putting out is one of the main reasons why we did this review.
Their ads feature wild lettuce used as pain relief. Wild lettuce extract is possible to be produced using the Lost Ways guide.
For more information on how to use wild lettuce safely, please see "Wild Lettuce – Sleep Aid and Pain Reliever" Weekly Weeder #24. Another advertisement is for hardtack. They call it a "superfood". Hardtack is flour mixed with water and salt baked until the meat is dry to the bone.
The reason there was hardtack left from the Civil War is because, to quote Crocodile Dundee, "Well, you can live on it, but it taste like sh*t." If you want to read some information about storing food that people want to eat, please see:
Foods You Should Stock Up on (for Emergency Use or Daily Use)
Also, there are over 100 articles on gardening. They can be found listed on the Gardening Index Page by category.
The Lost Ways: The Main E-Book

The Lost Ways is a digital book of 304 pages. The book has been updated many times. It was the 10th edition of the fourth edition at the time that this review was written. It is possible that older reviews do not refer to the same chapter or have a different page count.
The book starts with Claude Davis sharing his story. Although his parents had passed away, his grandparents were alive when he was born. Born in the 1800s, they grew up in rural America and belonged to a family still passing on survival skills passed from pioneers. Davis was a descendant of some of those skills, which shaped him into the man he became.
Lost Ways, a survival guidebook is available for you to use as a reference. Although many survival methods can be applied anywhere, the focus is on North America. Additionally, the book focuses on how Native Americans and American pioneers managed to do things. These techniques are not necessarily the best, but they can be sustained based upon the resources available.
Also, it is worth noting the belief that the American pioneer lives a simpler and more fulfilling life. Davis, as well as many other contributors to this book, prefers an off-the grid lifestyle. This sentiment might be offending to some readers. I know that I certainly did, but it was easy enough to ignore for the most part, and at no point did I feel that the perceived pretentiousness actually undermined the wealth of information in the book.
These sections will outline what I feel are the most important parts of the book. The Lost Ways and Claude Davis are two common questions that I faced while writing this review. The book's contents will provide a glimpse of how it will work.
After describing the sections objectively, I'll then go on to discuss the subjective parts, like what I enjoyed about The Lost Ways and the things I didn't. Please note that these sections do not include the whole guide. This is a massive book with more than two dozen major sections, and covering them all would simply make this lost ways review too long.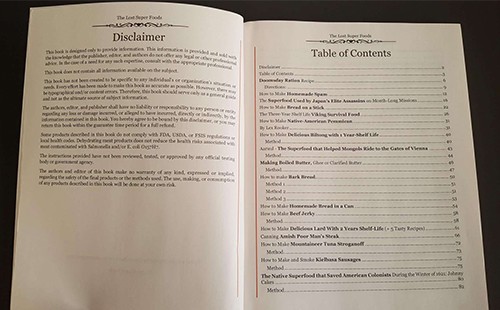 The Lost Ways Review: The Lowdown

"We can access modern medicine, food, or shelter. What's the point of a book such as The Lost Ways? These comforts may not be present tomorrow, but they might provide some of your current comforts. The history of the world has taught us one thing: disaster is always just around. Today, there are many threats to our lives, including sociopolitical instability, environmental concern, and global disease. Just one incident can change the course of your entire life.
You can rely on the Lost Ways to help you survive.
The best scenario is for you to not need the information that you have learned from The Lost Ways. In the unlikely event you need it, however, you'll be happy you have it.
Learn from the Lost Ways how to make your life better today. There is a growing trend towards homesteading, but it's not for only those who live in rural settings. A growing number of people desire independence and to lessen their dependence on the electric grid. The Lost Ways can help you do just that.
This book has much to offer, no matter why you chose it. We'll be taking a deeper dive into The Lost Ways to see what it has to offer. Before we dive into the details, let's first look at some facts.
My Review: What do you get with The Lost Ways Book?

Ask yourself questions and you will be able to find the answers before you purchase the book. Therefore, you read reviews and research what the book entails.
The Lost Ways Book is over 300 pages with a step-by-step guide that covers various areas relevant to man's survival. The Lost Ways II is the sequel to The Lost Ways Book. It focuses more heavily on the necessity of survival for mankind.
Because of current global conditions, it is important to learn survival and life-saving skills to support those who have been displaced due to war, famine or other natural disasters.
These hacks were shared in the book around the following topics:
2020's Best Survival Book PDF!

San Jose, December 9, 2020 (GLOBE NEWSWIRE). People all over the globe struggle with life's difficulties. There are ancient secrets that can help people live in chaotic situations. The best way to find out about ancient secret strategies that allowed people to survive economic crisis and famines as well as diseases is by learning the old forgotten ones. You think that it is possible. The Lost Ways System is an exclusive program. This system prepares people to confront the worst possible scenarios, just as their ancestors, completely without the use of modern technology, electric power, cars, and other technologies. The Lost Ways program is the perfect way to stay alive in major crises thanks to its tips and strategies. Continue reading to learn more about this program.
Review: The Lost Ways of Claude Davis
The Lost Ways program website states that it is the only program which teaches you ancient techniques for survival in unexpected situations. This ebook was designed by Claude Davis for your protection and to help rebuild your community in the most difficult of times. According to him, this guide is useful for those who want to acquire basic life skills and to adapt them to a better life. You can easily access the guide via your mobile devices with more strategies and support for any future situations.
As per the official website, The Lost Ways is the effective and affordable eBook to support people during their pandemic and other situations. The entire story of your ancestor is revealed without hiding any secrets that will help you to survive. This will ensure that you never spend a lot on preparation materials. This guide is a comprehensive one-stop shop for all things related to survival and how you can live with any criticism. The product shows you how simple ingredients can make superfood. This amazing food was found and largely used by Native Americans as well as scout first Western explorers who were alone for months at a time. It is compact, light and rich in vitamins and protein. If done correctly, you can even live for a few years without refrigeration.
… Even to rebuild your community during the worst moments.
The basic tools, control and cooking material can be used as any other product. You can save your family by following the instructions of the creator.
Book Review of "The Lost Ways Book".

The MASSIVE amount you'll gain from this book is obvious, so I have to rate the lost methods a full 10/10. This is an AMAZING book, and now one of my top 3 resources for survival.
Given its size, it's impossible to provide a complete REVIEW of the book. I will however say that the content is unmatched by anything I've ever heard or read. The knowledge in this book is more than 100 times the value of its lost methods. It has been my #1 Survival Book 2016.
Yes, it does take time to read The Lost Ways.
YES – it takes time to learn these skills
YES. It takes some time to master these skills.
HOW MUCH HAPPIER WILL YOU BE KNOWING THAT YOUR FAMILY AND OTHER LOVED ONES WILL BE BETTER OFF IF THE SHTF.
You may not have noticed it, but there is no way to know what the future holds. GOD IS ABLE TO HELP, BUT he does not put everything on the table for you. Work hard, and take responsibility for your actions. This is your only chance to change the world. It is possible to change the world! It's possible to do so much more than you realize!
Review of The Lost Ways – Don't Buy Before You Read This! You can find the user here!

Review of The Lost Ways Have you ever thought about what you would do in a life-threatening emergency? Do you wonder what your survival skills would be without access to the internet and electricity? You need to be aware that technology is not so advanced that it could protect your family and friends from every kind of disaster, particularly those that are life-threatening. You are without the same facilities you have in your daily life when you're faced with a crisis. It is therefore crucial to have the knowledge and guidance to be able to survive in an unfavorable environment and ensure the safety and well-being of your loved ones. That is exactly what the Lost Ways book by Claude Davis attempts to do.
The Lost Ways – What's the Deal?
The Lost Ways is an e-Book compiled by Claude Davis in an attempt to outline ancient secrets to survive in the face of unforeseen situations, including natural disasters, war, economic disasters and drought, to name a few. It contains many tried and true methods, information, and tips that our forefathers used back when electricity was scarce and expensive. The author claims that the world is too dependent on technology to complete simple tasks and has stopped using basic skills to deal with these problems. Davis presents a wide range of strategies in his book that can be used to sharpen your natural survival instincts and better prepare you for future events.
About Claude Davis – the Author. The Lost Ways book was created by Claude Davis. Davis has a long history as a survival expert and writer. His extensive knowledge spans over 30 years and he's well-equipped for providing practical and useful tips to help you prepare and safeguard your family from disasters. Davis manages the famed survival site. It is popular with wildlife and apocalypse lovers. Davis wrote this book to express his concern over the lives of the contemporary generation and to show how disconnected they are from Mother Nature. His book contains very useful guidelines that will help you connect to your forefathers' ways and improve your dormant survival abilities.
How does The Lost Ways work?
The Lost Ways is one the most cost-effective, comprehensive and simple-to-learn programs. You will learn how to properly store, plant, harvest, and preserve seeds. Davis says there are vast differences in the perspectives and lifestyles of the modern and ancient men. After explaining that, unlike modern-day generation, our ancestors had a greater tendency to perform most work by themselves, he goes on to point out the differences between them and today. The former has made their brains less efficient by relying on all of the modern technology and science that is available. Because of this, it is much more convenient to rely on their smartphones and other expensive gadgets than to use their brains for basic, vital tasks. The author of this ebook tries to alter the thinking process of today's people so that it is more in line with the past. Davis offers survival tips and practical strategies that will help you become more independent and better in tune with your natural surroundings.
Additionally, this book contains many useful tips and tricks that can be used to make your life easier. It is possible to learn how to make delicious food with very basic cooking materials and tools, as well as other powerful techniques. This will make you practically immune to both natural and man-made disasters. With the guidance of this guide you can save your family's life and help rebuild your community. Learn the basic survival skills needed to survive any unpredicted event, indoors or outdoors, from your grandparents and greatgrandparents.
The Lost Ways Book worth It?

The Lost Ways can be a worthwhile investment if you're interested in learning more about survival. This book might not appeal to everyone who isn't passionate about the subject. But, ultimately you cannot put a value on what you learn. => Click Here To Visit The Official Website Of the Lost Ways Book: Claude Davis
Are The Lost Ways Legit or Scam?

The Lost Ways is not fiction. The book contains information based upon years of survival expertise. Sep 18, 2021
Who is the Author of The Lost Ways Book:

Authors / The Lost Ways
.The Lost Ways Book Review