Home Depot Pro Xtra In 2022 (Who Can Sign Up, Price + More)
Home Depot offers a variety of ways for its regular and loyal customers to save up while purchasing tools, supplies, and equipment from the popular home improvement retailer.
If you have ever heard about Home Depot Pro Xtra Membership, then you might be interested in learning more about it and how you can sign up. Learn more from me about this membership!
Home Depot Pro Xtra In 2022
Pro Xtra, Home Depot's loyalty programme, helps its members save time as well as money. Members also receive exclusive benefits and tools for their businesses starting in 2022. Pro Xtra is a useful program that professionals can use to cut down on the overall cost of their business.
Keep reading to discover more about Pro Xtra's benefits and who is eligible.
Home Depot Pro Xtra: Who can sign up?

Professionals are the best candidates for this loyalty program. But, to get signed up you do not need to be licensed.
This membership is for you if you are planning to do a major home renovation or if you just shop at Home Depot often.
How Does Home Depot Pro Xtra Work?

You get many benefits when you sign up for Pro Xtra. But you also have the opportunity to view other areas of Home Depot which are not available to normal shoppers.
A pro account will be created on both the app and website. This allows you to track and redeem your online and in-store purchases as well as any special offers.
In addition, your app will give you a Pro Xtra virtual identification, reloadable credit cards, spending caps and e receipts.
Simply scan your virtual identity when checking out to access your account. Make sure that you login online if you want to shop in-store.
Inability to follow these steps will lead to your spending being not tracked and you losing any perks.
How much does Home Depot Pro Xtra costs?

Home Depot Pro Xtra Membership is totally free if only you want the basic membership.
Not only will you have the opportunity to receive a range of personalized offers and perks without paying any extra, but there are also other ways that you can earn even more.
For example, in the Paint rewards benefit, your paint discount increases the more you spend on paint.
The Home Depot Pro Xtra Terms and Conditions state that you can choose to be a member or a bronze, silver, or gold member for paint rewards.
As part of these rewards, you will get a maximum discount of 20% if you spend a minimum of $6,500 on qualifying purchases.
Home Depot Pro Xtra – Which Benefits Does It Offer?

Home Depot Pro Xtra offers a variety of benefits that will suit professionals as well as everyday shoppers. These include paint rewards and purchase tracking.
Below is a listing of all the main benefits and rewards offered to Pro Xtra Members:
Volume Pricing
Bulk buying makes it much easier to purchase materials in bulk for your projects or jobs.
You can simply create a project plan with all of the materials you will need (such lumber, paint) and then bring it to the Pro Desk in your store for a quote.
This can save you a lot more than buying individual items and then cashing them at the check-out counter.
Paint Rewards
Paint rewards is the perfect reward for professionals and those that just like to beautify their home.
Your entire color history will be available for each purchase. This can help you find the shade magnolia that was used at your previous job.
Other than that, you'll also get dedicated representative support, and discounts depending on how much you regularly spend on paints to help you with your job.
These calculations are basic on qualifying purchases, which include any purchases of D24 painting supplies (so the discount applies to more than just paints).
See the chart below to find out more information about discounts:
Personalized Offers
Members who are Pro Extra receive special offers for products and services which regular customers do not get. These offer can be sent by mail, email, or via the Home Depot App's message center.
The program tracks your purchases, offers discounts and coupons as well as links to other parties that provide discounts for similar products and services.
Get Tracking
Professionals love the app but you also have the option to organize your purchases on the site and in the app. This will simplify tax preparations.
This allows you to quickly track purchases, store receipts and arrange each purchase according to job or PO.
Text2Confirm
Text2Confirm allows you to authorize employees quickly in-store purchases if you have employees who need to purchase your products quickly for their jobs.
This simple method will ensure your cash goes to your purchases. It also protects your company's accounts.
You can setup cards for your employees by being a business owner. When a purchase occurs, a text will go to your cell phone.
Simply send a text to your mobile phone and you can approve or deny purchases made using these cards.
Pro Xtra Perks
These perks, which can also be used to earn personalized offers through purchases are finalized.
When you make a purchase at Home Depot you can scan your virtual ID to unlock additional perks such as free drinks and snacks.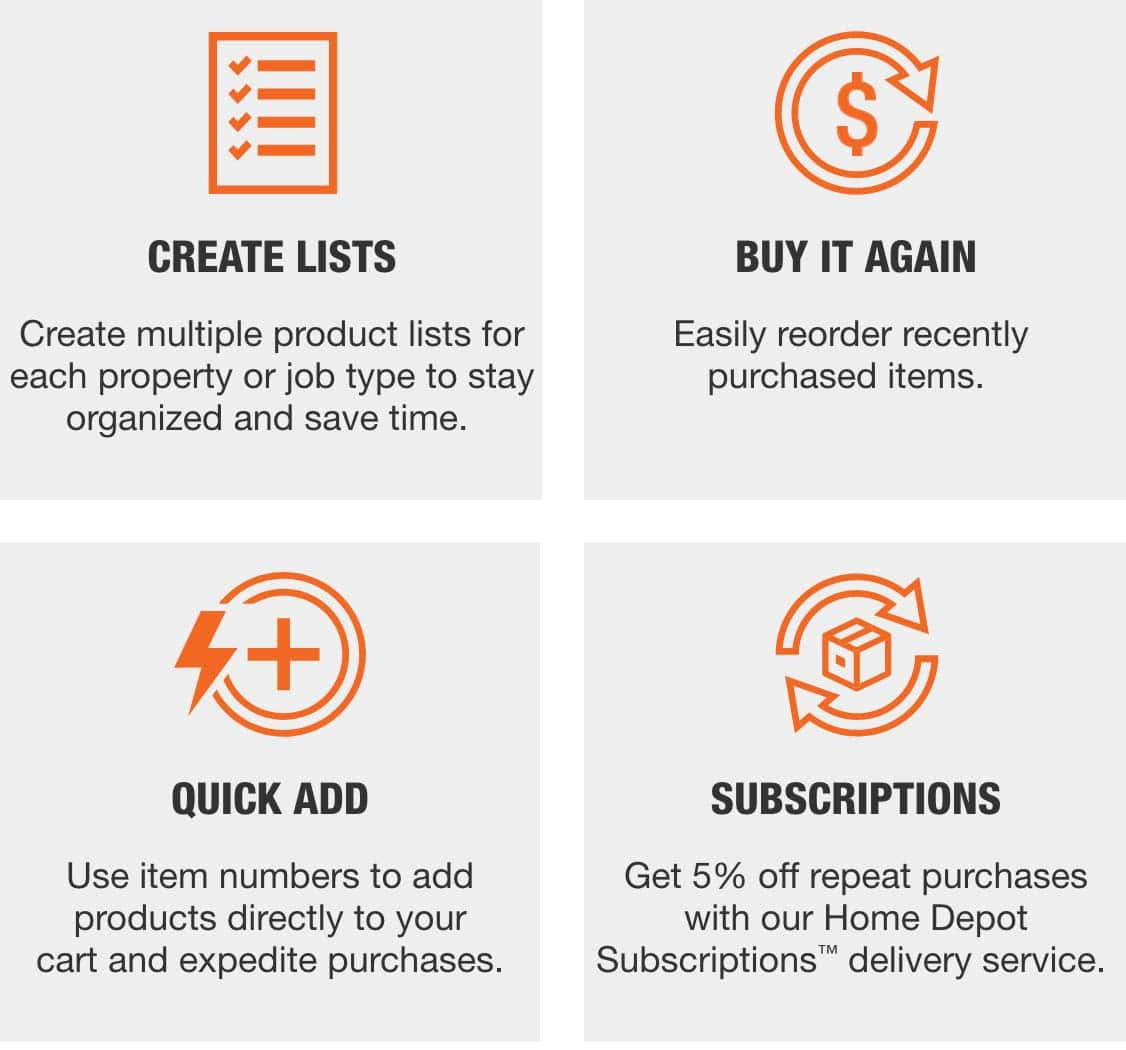 What is the Returns Process for Home Depot Pro Xtra

Pro Xtra return policies are different than those for regular Home Depot.
To exchange or get your money back, send your receipt and shipping email to Home Depot along with the credit card used.
For more information on Home Depot's returns policy, please click here.
Home Depot Pro Xtra offers a discounted price

The discount offered for Home Depot Pro Xtra members only applies to specific items.
The Paints Rewards offers the most attractive discounts. However, you will also receive personalized discount codes to your account, as well as other benefits.
What is the best way to sign up for Home Depot Pro Xtra

Just click on the link to sign up.
It is very simple to do and it will pay off in the form of many benefits.
Home Depot offers many perks and discounts. Check out these related posts to find more: Home Depot improver card, Home Depot senior discount, Home Depot military and veteran discount.
Conclusion: Home Depot Pro Xtra
Home Depot Pro Xtra loyalty program is a fantastic option for business professionals and customers every day. The benefits members receive include discounts and perks when they shop online and in stores.
It's easy to register for returns. To sign up, visit the Home Depot website or stop by the store to speak with an associate.
Can Anyone Sign Up For Home Depot Pro Xtra?

Pro Xtra at Home Depot is a program that's open to professionals. However, you do not need to have a license or certification to register. You can get this program if you are a regular shopper at Home Depot and/or if your project is large. 5 May 2017.
Can Anyone Get A Home Depot Pro Account?

Anyone who shops at Home Depot is eligible to sign up for a Home Depot Pro Account, i.e. It is not necessary to have a license or certification. Home Depot has a pro account that can help you save money if you shop often at the store.
Home Depot Pro Xtra – Is There a Charge?

A membership to Home Depot Pro Xtra is completely free if you just want to sign up and get the basic membership. This is what it means. There are many benefits and personal offers that you can take advantage of without paying a penny. But there are more ways to reap the rewards.
Is it worth joining Home Depot Pro for a monthly fee?

1. Pro Xtra membership offers a free service. Sign up and make a Pro Xtra login to enjoy the many benefits. Your email will be requested by The Home Depot Pro Xtra when you first arrive. 2.27 Sept 2019
.Home Depot Pro Xtra In 2022 (Who Can Sign Up, Price + More)